Go surreal. Go abstract. Go otherworldly. Go any creative direction you want with our easy-to-use Polaroid Go Color Filters. To make sure you get the most out of these filters, we've collaborated with the super-talented, Portuguese photographer and art director, @marialouceiro (she/her). As an artist who loves to create dreamlike worlds with her photography, she's the perfect creator to get you going.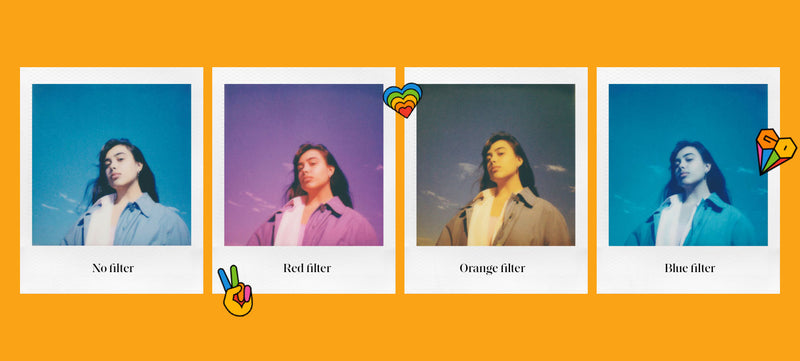 It's all about sun and shadow
"I *love* the filters' strong effect in portraits that have a lot of light/sun shining on the model but a shadow in the background. The strong colors against the dark background reminded me of cutouts; there's this great separation between subject and background, bringing out saturated colors of each filter, making the model pop out of the image.

I'd play with the amount of shadow, too, such as under a tree with glimpses of a sunny sky—each filter brings out a different quality, yet in each instance it's a really interesting shot.

Sunny days with hard shadows look incredible. I was able to get well-defined shapes on the face with a colored soft touch for each filter against a clean background."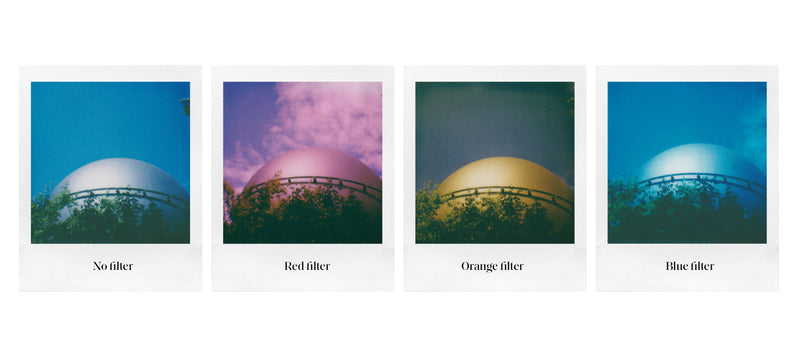 "Try your luck shooting straight at the Sun with the filters, too!* I like the effects a lot but of course the details of the landscape itself disappear, so if the goal is to have a sharper more detailed image, even with a filter the Sun overtakes the image. I personally like this a lot, and while it can't work everytime I think it can look great if used right." *This is something we would usually warn against as it causes some very experimental results which can be very visually interesting, but also unexpected and unpredictable. We'd also advise you not to look directly into the sun through the viewfinder.

"If the model slightly covers the Sun, it brings out great colors on the sky, contrasting with the dark silhouette, and the same goes for a sunny day with clouds - each filter completely paints the sky."
Translation missing: en.Red
Translation missing: en."Red's my favorite! 😅 It brings out red/ pink hues and turns all types of landscapes into dreamlike scenarios. Head to the mountains, find some clouds, and go dreamy red all the way."</p><p></br>
Translation missing: en.Orange
Translation missing: en."Shooting against big empty backdrops (like the sky) creates lovely contrast between the foreground subject. There is something soft, warm, and magical in every orange filter shot. Go to a desert someplace and create magic."</p><p></br>
Translation missing: en.Blue
Translation missing: en."This for me created cold, eerie, otherworldly shots… It's great, but the most challenging. The Blue filter does need a bit of extra light to shine properly, but interestingly, when you get it right, it has the sharpest, most defined lines and angles. Find a cityscape on a bright, sunny day, and turn the world on its head."</p><p></br>
Shop Polaroid Go Accessories
See all