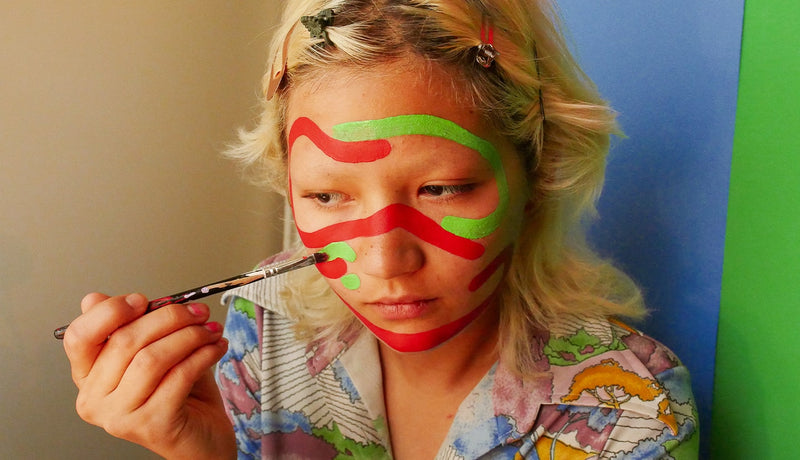 Bobby pins, plastic forks, or the toe of a cowboy boot. For Madrona Redhawk her next beauty look doesn't need a blush brush, it needs whatever's in front of you. The Las Vegas teen is known for her make-up-meets-performance-art content where she turns everyday items into tools for artistic transformation.
So what happens when we hand Madrona our new Polaroid Go camera? We joined her in her Las Vegas home to find out, while also discovering more about her carefree approach to creativity.
Developing: What is the most important part of your creative process?
Madrona:  My most important part of my creative process is doing what I want. My art is always the best when it's coming straight from me. I almost never ask other people's opinions on my makeup. I do much more for my performance art, but it's the people I trust most — like my family. But I still have the final say in it. As far as my makeup goes, I just don't take advice. I'm going to do exactly what my brain wants to do.
D: When does inspiration come easiest to you?
M: Inspiration comes easiest to me when I'm in a good mood. Makeup is not mindless at all. I think about what I'm going to do a lot, but I can do it anytime. The performance art is much more difficult. Thinking about ideas is so hard. Sometimes it's a three-hour process or even longer for a three second video. I like to keep in a good mood, so I can do my art well. I love to play video games, ride bikes, spend time with my family, watch my favorite movies, anything I like.
D: How do you typically start your creative process?
M: I don't have too much of a creative process for my makeup. I'll sit down in my bathroom, put on my favorite music, and stare at myself in the mirror looking at these tiny, tiny little dots. And then when it comes to performance art, I'll think of ideas just randomly. I'll be looking at something and be like, "oh there we go", and I have it. And then when I can't think of an idea, I walk around my house just staring at objects until I'm like, "ok I can do this with this, or I can do this with this". It can be very frustrating. My performance art is definitely more difficult to do.
D: How do you get out of creative blocks?
M: This is something I haven't mastered. The best way to deal with that is looking at my old art, or just looking at all my art, and getting inspired by that. For example, I made this video a while back, and I put paint on the handle part of the scissors and put it over my eyes like two circles. And even at the time I was like, "this isn't completely right". But then like months and months, maybe in over a year later, I did a video where I hot-glued eyeliner on to the blades of scissors, and I snapped them shut off my eyes. My eyes were never in danger, very far away from the tip of the eyeliner. And I was like, "Okay, this is right. This is what I was leading to there". So sometimes it's just reimagining your old ideas because you knew something wasn't quite right.
D: What's something that inspired you and what did you make because of it?
M: Something that really inspired me was 'Break My Stride' by Matthew Wilder. Everyone who knows me is like, "Yeah that's a song that Madrona would like". I love upbeat 80s music. For six hours I probably listened to it, and for like 3 hours of that like almost on repeat, while doing this fabulous bright shiny blue and fluorescent pink makeup look. It's one of my favorite makeup looks I've ever done. It took me forever. So that song inspires me. I still listen to it all the time.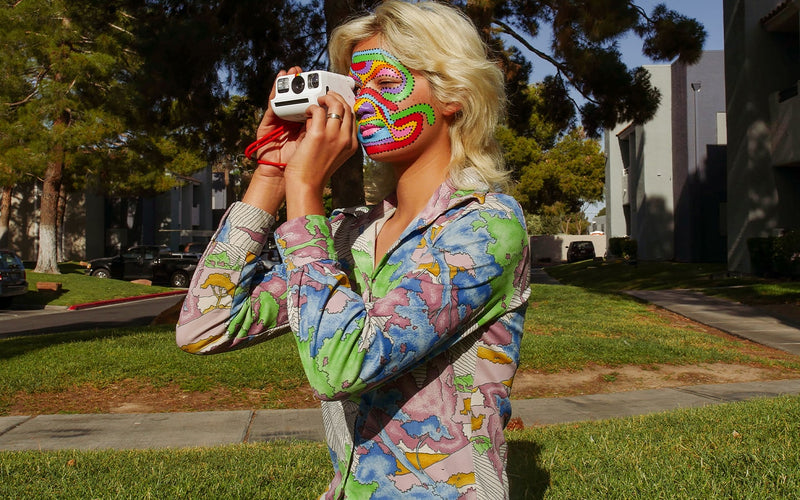 "The most important part of my creative process is doing what I want. My art is always the best when it's coming straight from me."
D: What advice would you give to other creators seeking inspiration?
M: Try to think of ideas when you're falling asleep. So many artists do this and I do this occasionally too. When you're falling asleep and get kind of groggy, try to think of ideas. If you think of a really good one, wake yourself up and write it down. I have forgotten so many ideas by not writing it down and it sucks. I hope I can think of them again one day. But that is a great weird way to get inspiration. Or just sit and stare at a wall and think about things. That's very much something I do.
D: How have you stayed inspired over the last year?
M: During the pandemic was the first time I seriously struggled with motivation. For months all I would do is play Grand Theft Auto (GTA). GTA took over my life and this happened before the pandemic as well, but I just went through a big wave of it again. My parents were like, "Come on we love your art. Make your art again". And that was a bit of a kicker for me. I would go back, and look at my Instagrams and be like, "this is so great, I wanna do this again", and for a long time it was extremely, extremely hard to think of ideas for my performance art. Also, my makeup is extremely labor intensive. But I came back with the help of my family.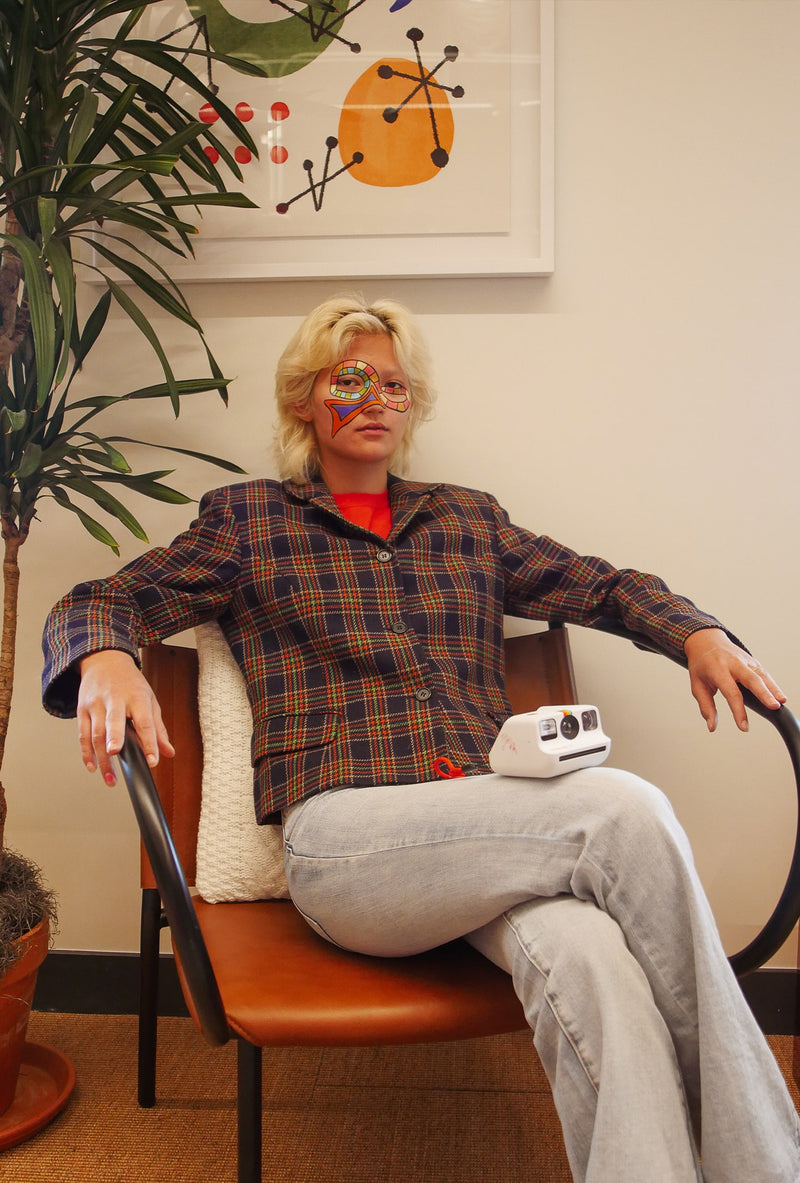 "[Polaroid photography] is much more of an art form. It's more difficult, but it's more rewarding. It has made me think so much more about the photos I'm taking, and I think that's a good thing."
D: What is something you wish people understood about the creative process?
M: This isn't everybody, but I wish people understood how difficult it is making art. I hear so many stories of people not wanting to pay artists. People are like why is it so much if it's so easy. [I wish more people could understand] the education, the hard work, and all the things people have done to reach this point.
D: Can you tell us what Polaroid means to you?
M: Polaroid to me is something from a different time in a modern era, and I love that. I love the new film format. It's so precious. I mean, who doesn't love cute, tiny things? When you take Polaroid pictures, you're having fun, and you're probably with your friends. You're documenting a time when you're really happy. And I think that's great.
D: How has the Polaroid Go changed your creative process?
M: It's so much more of an art form. It's more difficult, but it's more rewarding. I think it's beautiful, and that little camera is just precious. It has made me think so much more about the photos I'm taking, and I think that's a good thing. It has also taught me more about photography. I always thought double exposures were awesome. I was shocked at how easy it was. I've done some really cool stuff with flowers and such.
D: What do you hope to achieve with the Go create project?
M: I was stoked when I found out that I was going to be a part of this project. This is a new format for me, especially not being a photographer, so a lot of the photos that I took were selfies. I definitely think I'm going to fill one of my scrapbooks; I'll take a Polaroid picture of my makeup each time I do it. I think that would be a really cool way to save some of my makeup looks. I always imagine my great-great-great-grandchild finding that one day, and being like "wow, I can't believe I'm related to them. This is so cool". I love looking at pictures of my great-grandma. It's so cool to just have a physical format of that. It's so different to what I take on my phone.
D: What is your dream project?
M: I do papier-mâché and I use just flour and water for the papier-mâché paste. It's super cheap and fairly good for the environment. My dream project would be a papier-mâché city. Maybe you can't walk through it, but in the front the buildings are a lot bigger, and I make them smaller and smaller and smaller as it goes on. I mean, how big can it be? Papier-mâché is a big passion of mine.
D: What's next for you?
M: I will most likely be moving to New York City which is crazy, I've spent some time there working and it's intense but I like it so I do feel like I'm going into a new chapter in my life.
Follow Madrona's next chapter on her Instagram, or go BTS and meet the next generation of creatives, such as Quinn Whitney Wilson and Arlo Parks. Looking to capture inspiration on the go? Pick up our tiny new creative tool — the new Polaroid Go camera. We can't wait to see what you'll create.